3D Skull Ice Mold
FREE SHIPPING ON THIS ITEM!
Questions?

Email us or call us at +1 (650) 645 9944.
Silicone 3D Skull Ice Mold makes four 1.57" (4cm) skull shaped ice cubes!
Add a touch of horror to your drinks, Halloween and any theme parties!
Great for making chocolates, gelatins, soaps, candles and more!
Made from 100% BPA free, non-toxic, food grade silicone.
Soft and flexible silicone makes it easy to pop cubes out!
Safe for dishwasher, freezer, oven and microwave.
Approx. 4.5" x 3.3" x 1.1" / 11.5cm x 8.5cm x 5cm
Chill your beverages to the bone and terrify your guests! Perfect for Halloween, each 3D Skull Ice Mold creates 4 large 1.57" (4cm) ice cubes, candies, bath bombs, candles and more!
Customer Reviews
3D Skull Ice mold
Perfect as always
Sweet Skull Ice Molds
These skull ice molds are sweet! I ordered more to have some for when I have family or guests over so they can enjoy the fun as well. I've had other skull molds and this type is better than the rest and are a full skull each when the mold is peeled apart (not a half skull cube). I'm very happy with this purchase. Thank you for making the best skull cube mold available!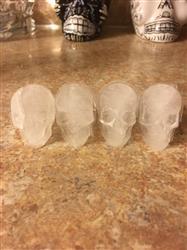 I like it
It has come in time.
Creative product ideas
Creative gift ideas! Can't wait to send as gifts over coming months. Website was easy to navigate.
very happy
It's a challenge for me every birthday and Christmas to find a gift for my brother that is skull themed as he's been obsessed with skulls for a while, so when I saw these I had to buy and yes he was chuffed to bits with them for Christmas especially as he'd already bought himself the set but found four skull ice cubes just not enough, so now he has eight lol! Very happy brother Christmas day and very happy sister at having found him something he was happy with. Thank you, I will be back.